Why We Chose The Cascades At St Lucie West
Around Thanksgiving of 2019, my wife Jan was getting strong vibes that we should consider cashing out our equity in the home we had recently renovated and downsize so that we would be relieved of the pressure of having to earn money.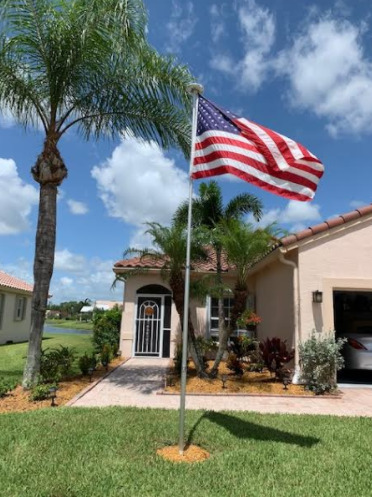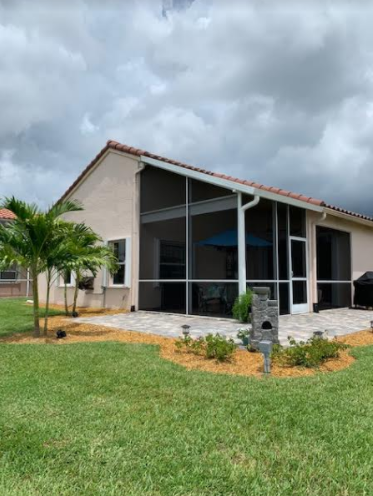 Let me explain.
We are both Real Estate agents. I was 80 at the time and though I never thought much about retirement, when the subject came up among friends my mind would wander in that direction. It was like
"What if we really could?"
Back in 2006, we had a game plan to rebuild a home in Palm City on the water but after we completed the remodel we fell in love with the home and the boat in the back yard.
BAD THINKING! Has that ever happened to you?
Anyway, we missed the target by a mile and it cost us dearly so that was driving our thinking this time around.
So, the decision was made to consider downsizing. We began looking at 55+ communities in Port St Lucie. We looked at all of them. New construction and resales. We especially considered the community amenities and financial strength of the HOAs.
We also studied the RULES AND REGULATIONS of each community. What rules could we live with an what would be deal killers? What would the cost difference be between brand new construction and older homes built around 2004? What were the HOA fees and what would we get for that expense? What did the community FEEL LIKE as we drove thru? Were the lawns manicured? Did the residents wave back? Did we know anyone in the community who would give us their honest opinion on their experience living there?
Other considerations
Other considerations were that we loved our neighborhood in Pinecrest Lake, Jensen Beach and enjoyed our neighbors. We lived on a ¾ acre lot with our own pool so we were concerned about privacy in any new location. Would we ever find a home we liked enough to make what would probably be the last move of our lives?
Decisions decisions.
Anyway, after much deliberating we chose the active adult community of The Cascades at St Lucie West. The resort-style huge pool, the recently remodeled clubhouse with theater, all the activities, and clubs that were offered along with the feel of mature landscaping and financial strength of the HOA all figured into our decision.
Now to find a house we could make our home. Have you heard that timing is everything? So true. We found a listed property that had just fallen apart the day before closing. We visited and found that it smelled of cigarette smoke so we almost rejected it but the floor plan with some changes would make it work AND it backed to a lake.
Jan researched how to get rid of smoke with saucers of vinegar and charcoal which not only worked but was very inexpensive compared to commercial cleaning.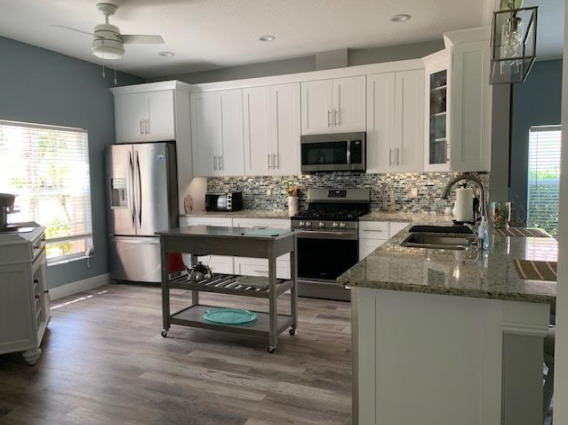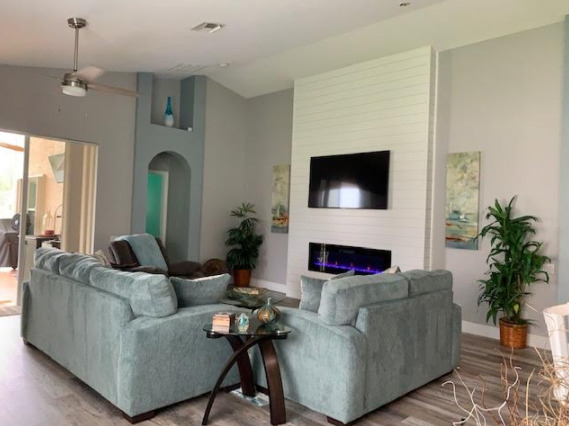 Next to the repairs and upgrades:
1. The whole house needed painting and we hired it done.
2. Some floor tiles were cracked so we chose to install vinyl waterproof wood-like flooring over the existing tile. Our installer insisted we skim coat the existing floor first to eliminate bumps and valleys in the finished floor. That was an excellent move.
3. We opened the kitchen to the dining room and living room. It was a lot of work and a ton of sheetrock dust but oh were it worth it!
4. Jan got her new kitchen with grannett counters, 42-inch cabinets, new stainless appliances, and under counter lighting.
5. Oh yea, the feature wall. We explained that we wanted a large TV and electric fireplace built into a wall and our contractor did an amazing job! The fireplace is a great light show and it does provide for heat although I doubt we'll use that feature.
6. The final steps (for now anyway) were the outdoor patio and landscaping which were required to have HOA approval.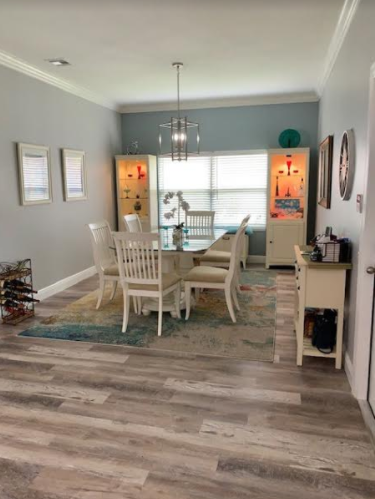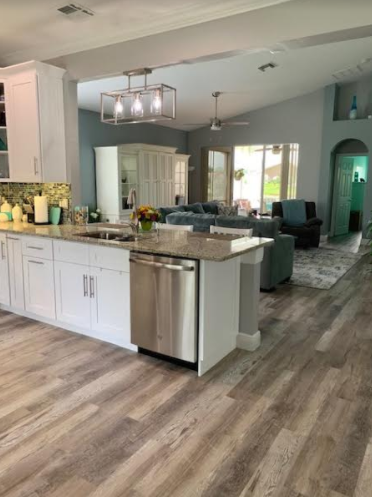 Here's the bottom line.
We have a home we love, on a lake, and saved about $100,000 compared to a comparable new construction product in any other development in the area.  I have to compliment my wife Jan because, like our last home, she could visualize the finished product that many buyers wouldn't see.
So here are some pictures of the finished product.